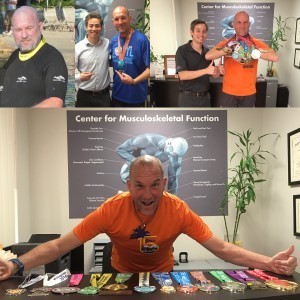 Jim Perkins had a couple of goals in mind when he came to see us for the first time in October of last year, and the primary one was to be able to walk his daughter down the aisle at her wedding without pain holding him back. He also wanted to lose some weight, but we'll get to that a bit later. His co-worker had mentioned Dr. Yinh to him, and Jim decided to start coming in for treatment.
So initially, Jim came in for a sprained ankle. Once his ankle responded so well to treatment, he decided to mention his chronic knee pain to Dr. Yinh. To say that Jim had bad knees would be an understatement. It's a well known fact that even losing an extra 10lbs will help degenerated knees tremendously, but how in the world can weight loss happen if your joints are chronically in pain? Jim had had chronic knee pain for as long as he could remember, and he wasn't sure if anything could be done.
Needless to say, Jim's knees responded beautifully to treatment, and he has made some majorly impressive strides in his life. He was not only able to walk his daughter down the aisle on the most important day of her life thus far, but he was able to dance without pain. He became inspired to take on Fitbit challenges, has since lost 75lbs, and is now claiming the leading spots in those challenges. He signed up to walk the 2016 Valentine's Day Fort Lauderdale A1A Half Marathon alongside his wife, with whom he can now share these activities. Not only did he complete the 13.109 miles, Jim kept on walking. Jim walked a total of 30.38 miles that day, and remained pain free. The next morning, he walked another 10 miles just because he could!
Stories like Jim's keep us at the Center For Musculoskeletal Function inspired to continue delivering top-notch treatment through our proven process, helping you to move better and feel better. You have a pain-free life to live, and we can help you get there.
Our heartfelt congratulations to Jim Perkins for his accomplishments!
Jim's before picture
Jim's Fitbit stats after the half marathon

Jim with his first half marathon medal and Dr. Yinh
UPDATE on Jim! – 2017
Just over a year ago, we introduced you to our amazing patient, Jim Perkins. He had just finished his first Half Marathon, after deciding to make a change in his life. Over his course of treatment with Dr. Yinh, he subsequently lost 75lbs, simply because his body started to feel better and he became active. We are THRILLED to give you an update on Jim! What a difference a year makes. He has now finished 12 races, including The Storm Series! Jim's excitement and dedication continues to inspire us. Hats off to you, Jim!
©Center For Musculoskeletal Function 2016 – 2017
www.cmfchiropractic.com